2017 Galloway Captiva Triathlon Registration Open.
September 9 & 10 @ South Seas Resort!
Featured image file photo courtesy of Sebrie.com.
"The Galloway Captiva Adult Triathlon is based at the beautiful South Seas Island Resort.
The Galloway Captiva Triathlon on Sunday, September 10, is a sprint-length event:
Swim 1/4 mile (440 yards) in the Gulf of Mexico just offshore from the northern end of the resort.
Bike 10 miles along the paved island roads of Captiva (which will be closed during the bike portion).
Run 5K along the Gulf, Redfish Pass and the South Seas golf course on a combination hard-sand and paver course.
In addition, we will offer a Kids Triathlon on Saturday, September 9, with three age groups:
Ages 6-8: 100-yard swim, 1.5-mile bike, 0.5-mile run
Ages 9-10: 100-yard swim, 1.5-mile bike, 0.5-mile run
Ages 11-13: 200-yard swim, 3-mile bike, 1-mile run
To see the adult race courses, click here.
To see the kid's race courses, click here.
For a full schedule of events, click here.
Looking for the USA Triathlon rule book? Click here.
Interested in frequently asked questions? Click here.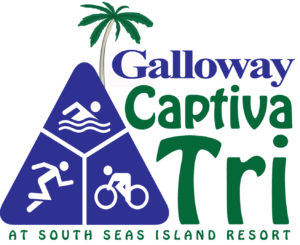 NOTE: Athletes who are not staying on Captiva the day of the race (Sunday, Sept. 10)… Day-of check-in and body marking starts at 5:15 a.m., and the first wave hits the water at 7:15 a.m. To accommodate the bike portion of the event, Captiva Drive will be closed beginning at 6:45 a.m. so you will need to be at South Seas Island Resort before 6:30 a.m. or you will be unable to come on to the island.
Follow us on Twitter.. @CaptivaTri or #captri2017
South Seas Island Resort is offering a special rate on a limited room block for the race weekend. Rooms are available until sold out or Aug. 9, whichever comes first. You may make reservations at the group rate either online by calling 1-800-282-3402.  Use the event name (Captiva Triathlon) to receive the group rate."