Legislative Wrap Up: Summary Of Caloosahatchee Watershed Projects & Funding.
The Sanibel-Captiva Conservation Foundation released a pretty comprehensive wrap up of Caloosahatchee Watershed related legislation and funding coming out of the most recent Florida legislative session.
Budget Amendment 1
"The 2014 amendment that directed 33% of state doc stamp taxes to Florida Forever land purchases and land and water restoration made progress this year with the passage of the Legacy Florida bill sponsored by Stuart Republicans Rep. Gayle Harrell and Senate President-
designate Joe Negron. The bill establishes a formula for spending Amendment 1 dollars. This year's Amendment 1 budget allocated by the legislature is $902.9 million; $171.5 million more than 2015.
The appropriations act mandates the first cut of funding be directed to pay debt service on Florida For- ever bonds, which this year totals $175.7 million. Of the funds remaining, the lesser of 25% or $200 million of Amendment 1 funds are appropriated annually for Ever- glades projects that implement the CERP (Comprehen- sive Everglades Restoration Plan) plan and the Northern Everglades and Estuaries Protection Program. An annual allocation of $32 million is designated for Restoration Strategies, the water quality projects required by the court order to clean up water moving south until completion in 2023-24. Of the remaining balance, the lesser of 76.5% or $100 million shall be dedicated each fiscal year through 2025-26 for planning, design, engineering and construction of designated CERP projects such as the C-43 reservoir in the Caloosahatchee watershed and the Central Everglades Project (CEP). The bill states the Florida Department of Environmental Protection (DEP) and South Florida Water Management District (SFWMD) shall give preference to Everglades restoration projects that reduce harmful discharges of water from Lake Okeechobee to the Caloosahatchee and St. Lucie estuaries.
Additional dedicated, non-Everglades restoration funding includes an appropriation for the lesser of 7.6% or $50 million annually for springs restoration, protection and management projects and $5 million annually through 2025-26 to the St. Johns Water Management District for Lake Apopka. This year's budget continues to underfund Florida Forever, the intended target for Amendment 1 monies. This year's FF budget remains the same as 2015 with only $15 million appropriated for a program that historically was funded at $300 million. This year the money may also be used by SFWMD for water supply projects. Florida Forever is the program that has purchased, restored and provided the tremendous state park system that has been recognized three times as the best in the nation! The value of these resources feeds our state's economy, provides our water supply and connects corridors for our unique wildlife while creating spectacular recreational opportunities. Other funding included beach management which dropped from $25 to $21.2 million; rural and family lands funding increased to $35 million to purchase conservation easements on agricultural lands and Florida Communities Trust funding for parks remained at $10 million. Unfortunately the budget also allocates 20% of the $903 million for salaries, vehicle purchases and other routine expenses which is not what the voters intended. Lawsuits are still pending from last year regarding the legislature's decisions on what to fund with this conservation funding. Stay tuned.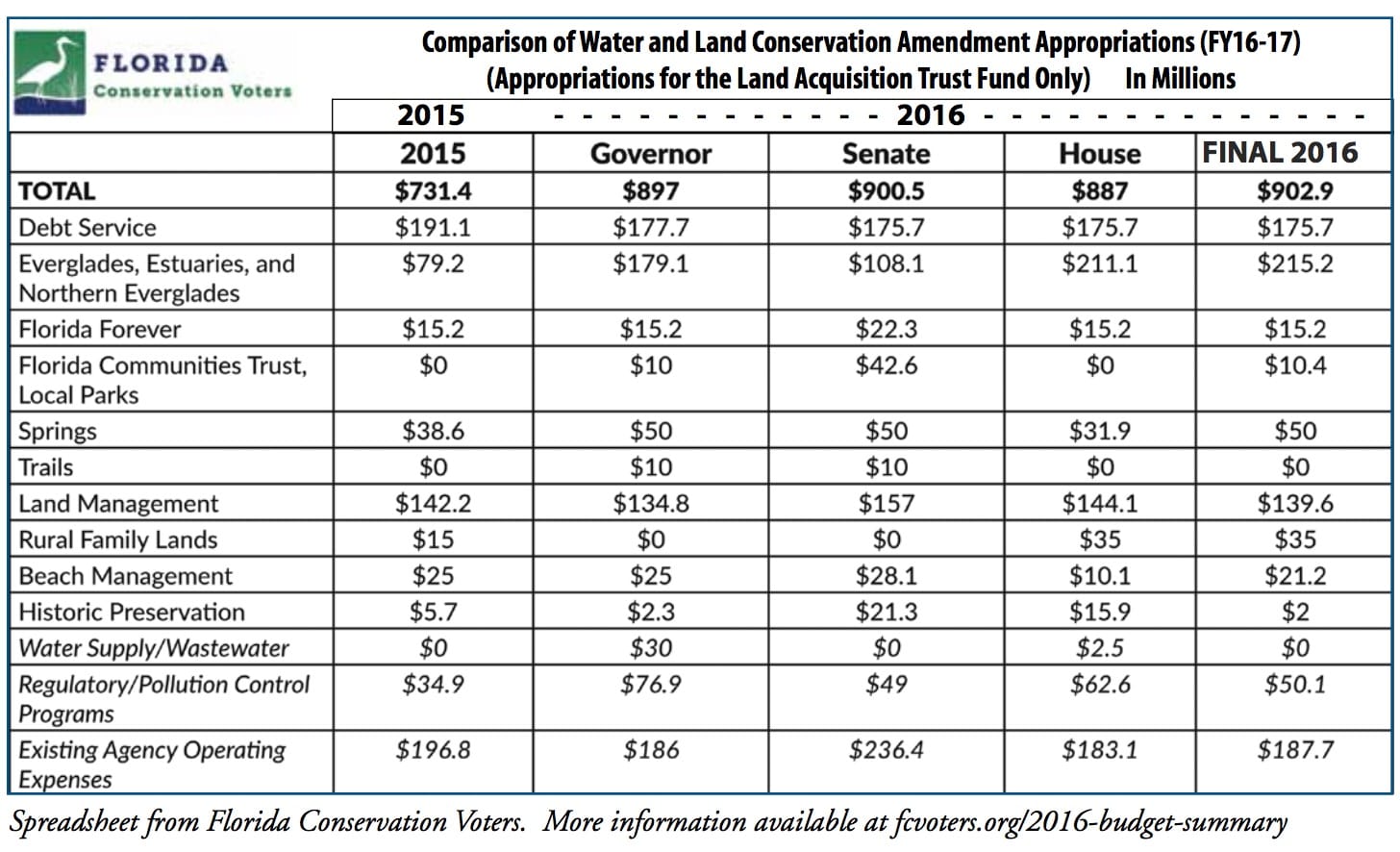 Water Bill
The Florida Legislature and sponsor Representative Matt Caldwell (our local representative), brought back the massive water bill that failed in 2015 due to the early de- parture of the House. This year the fix was in with the far reaching water bill passing the first week of session despite broad opposition from environmental groups. Although the bill had addressed deficits in last year's bill, the harm resulting from Senate Bill 552 is in its reliance on Basin Management Action Plans (BMAPs) and Best Manage- ment Practices (BMPs) to achieve water quality goals, es- pecially in the Lake Okeechobee watershed. It eliminates the deadline for Lake Okeechobee to meet its phosphorus pollution reductions — with no new date set. It fails to address water conservation. It further compounds water supply issues by creating loopholes in the consumptive use permitting process for groundwater withdrawals.
A late addition to SB 552 that slightly improved it was a change that shifted oversight and enforcement au- thority over BMPs from the Department of Agriculture to the Department of Environmental Protection. That change also provide DEP the ability to change BMPs if they aren't working."
Source: SCCF