Possible To See A Manatee Walking On Land On  Sanibel & Captiva Islands?  Well, sort of …
A great photo and story courtesy of FWC.
"Manatee Muscles at Work"
"When a manatee has to eat, it won't let a little land stand in its way!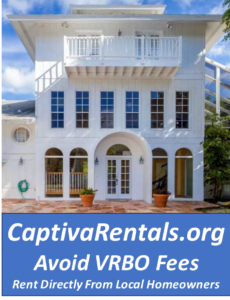 Edgar Stout was behind the South River Outfitters Kayak Shop in Stuart, Florida on Sunday when he encountered a manatee using its pectoral flippers to haul itself up on the bank and snack on some banana leaves and grass.
FWRI manatee biologist Tom Reinert said this behavior is known as 'pec walking.' 'It's not unusual for manatees to pull themselves up on the shoreline to find something to munch on, Reinert said. If it's green, they'll eat it, whether it's grass on the shoreline or mangrove leaves hanging over the water.'
Manatees eat about 10 percent of their body weight a day, so for a typical 1,000-pound manatee, that's a lot of vegetation and they'll take it where they can get it."   FWC Facebook Page
So don't be surprised if you see a Manatee walking on Sanibel or Captiva Islands!