Update:  Panther On Sanibel & Captiva Islands?
"I saw a panther in that small part of Ding Darling in the middle of the island, I believe in 2009. Please don't tell me it was a bobcat. Last time I checked, bobcats do not have long slender tails."
Geoffrey Megargee – February 17, 2016
We originally ran this post in March of last year.  There haven't been any reported panther sightings on Sanibel or Captiva in the last year, but there have been a number of reports over the years, including as recently as 2014.
We suppose if a black bear can turn up on Sanibel, there is no reason a young panther couldn't wander or swim its way to Sanibel and Captiva.
You can let us know your thoughts in the comments section at the end of this post!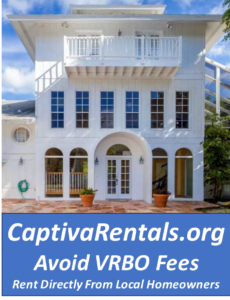 =======================
Sanibel Rentals, 3-20-15, Sanibel:  Chatter and back and forth continues on message boards on whether there is or there is not a Florida panther on Sanibel & Captiva Islands.
Some state seeing a panther on the islands in the last several months.
A young healthy panther was recently found in a residential neighborhood in Naples, tranquilized, caught and and safely relocated.  It is plausible that a panther could hop scotch a few islands and find itself on Sanibel & Captiva.  Boca Grande and Captiva Passes are not impossible swims, but would seem pretty daunting, treacherous and uninviting for a panther.  Redfish Pass would seem more doable at the right time of day, if it was on the tide change and there was little or no current.
The most likely path for a panther might be the causeway islands.
No credible photos or video have been presented and "Ding" Darling and SCCF cameras haven't picked
up a panther in the manner they have documented a black bear and coyotes in recent years.
Young male panthers get "pushed" out of the territory they were born in, generally by their father or another dominant adult panther, and often keep moving restlessly looking to establish their own territory and female panther companionship.  Sanibel & Captiva isn't such a stretch when one considers a quite large young male panther turned up in Chicago in 2008.  Radio collared young male panthers have been tracked moving more than 600 miles from their birthplaces.
Well, we'll see how this plays out over time.